Le Pliage Cuir
Top handle bag S - Brown
Leather
Mahogany
● This product is not available
Free Click & collect :
Collection items : within 1 day
Personalised items : 6 to 8 weeks after the order has been placed.
THE LONGCHAMP STORY
Soft and lightweight, this small handbag is ideal for carrying all of your essentials. Combining femininity and clean minimal lines, this is an essential everyday accessory. With a removable shoulder strap, you have the option of wearing it crossbody, over the shoulder, or in your hand. Le Pliage Cuir, inspired by origami, acquires a talismanic touch this season. With your bag jewel as your good luck charm, you might even slip in a wish, a few sweet words, perhaps more, if you feel like it.Make a Wish reflects the fact that a Le Pliage bag is much more than a handbag. More than just an accessory, this elegant everyday companion becomes a poetic confidant and a witness to our slightest actions and little secrets.The rigid bottom of this trapezoid-shaped bag is mounted on a rectangular mold. This stylistic feature lends the bag character, style and a well-structured look. Le Pliage Make a Wish is sold flat with the bag jewel so that it can be playfully customized. The label holder is a mini leather envelope with a small compartment in which you can write your wish. This refined grigri closes with a press stud. It is up to each customer to render the "Make a Wish" concept their own by tying a knot at the end of the grigri to seal their wish as they see fit. Le Pliage Make a Wish comes in different shapes, meaning it can be used in different ways, including hands-free: backpack, Nano, handbag or shopping bag. The body of the bag is made of metis leather. Combining the quality of goatskin and the suppleness of lambskin, it offers a unique texture with a creamy touch yet is both resistant and lightweight. As in the original Le Pliage, we use famous Russian leather, a variety of cowhide with a pronounced grain. Worked in deep black, it adorns the bag's handles, flap, shoulder strap and grigri.
Reference : L1512HVA204
Dimensions : 25 cm (L) x 23 cm (H) x 16 cm (W)
Material : Metis leather
Metallic Hardware : Nickel
Trimming : Grained cowhide
Lining : Polyester - Jacquard, Longchamp ribbons
Weight : 585 g

interior details

Zipped pocket : 1
Flat pocket : 1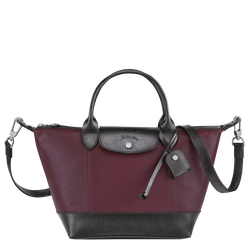 Le Pliage Cuir Top handle bag S
RM3,265.00
● This product is not available